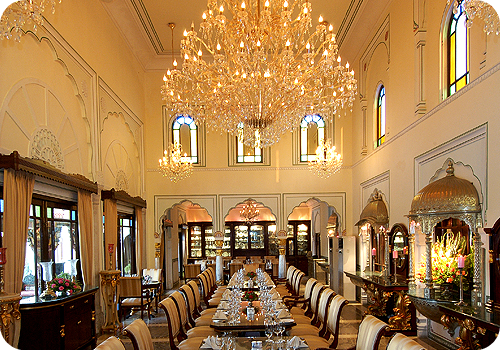 Formal receptions remained the focal activity of courtly life during the British period. Hence the Thakur Sahib made The Swapna Mahal, imitating the great Houses of the British and French nobility. This hall is completely fitted out with European furniture, chandeliers, mirrors, curtains and a crockery collections. The Swapna Mahal means the palace of Dreams. The double height ceiling has breathtaking majestic crystal chandeliers and panels of silk curtains will take you to the dream world.
Built with several beautiful arches, silver Jharokas and colored glasses, The Swapna Mahal is the multi cuisine restaurant of The Raj Palace. The setting of dining hall conjures up images of its fantastic past and every meal is a tribute to royalty. Every chair and table of the restaurant is so elegantly designed which will give you the feeling of the princely state and Maharaja's.
Our crockery museum inside the restaurant will take you to the history and will show you the crockery used in 17th and 18th Century
The Swapna Mahal is a place for your dream comes true; it is open for breakfast, lunch and dinner.