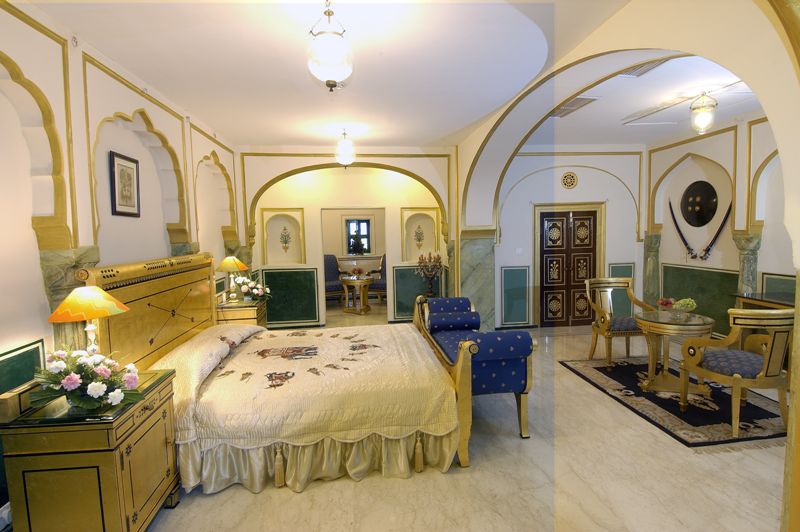 The suite is a four floor apartment with a private entrance through the Charbagh and the victory corridor, The Pavilion has a private elevator connecting all four floors and the total area of the suite is 16000 square feets and has four bedrooms.
The First Floor of the pavilion has a private lounge / lobby and the entrance leads you to your private secretarial and an extra luggage storage area, this further leads you to a large luxurious private Lounge with a bar.
The Second Floor of the pavilion the was the private floor used by the ruler himself it overlooks the inner courts of the palaces, and the Charbagh gardens, it combines a double-height reception room with vaulted apartments intended for private use. It was a sleeping chamber for the Thakur Sahib and its luxurious ornamentation includes Gold leafed painted walls , Stucco and mirror work, The furniture is in gold and silver. It has a private passage connecting the different pavilions and the Zenana. The Highlight of the Suite is a private museum displaying the Old Throne and Bolsters of The Thakur Sahib (king or Maharajah)
The Third Floor of the pavilion, has got the Library with a lavish Dining room connected to a kitchen, second accommodation room.
The Fourth Floor of the pavilion was the pleasure pavilion in past and now has a private roof top Terrace with panoramic view of the city and a small Jacuzzi. Swimming pool, this spacious part of the pavilion has large soft seating lounge, a private bar, Library, study area and an elegant dining complete with a separate Butler entrance , a private spa adjoining the pleasure pavilion. The bedroom is laid with rich ivory and gold furniture empanelling and two luxurious bathrooms.