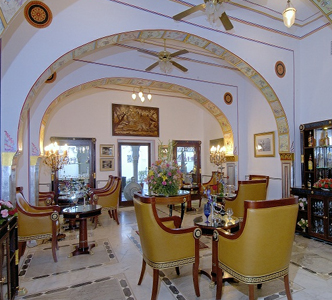 Royals in the 19th and 20th centuries gave particular emphasis to the pursuit of pleasure and comfort. Palaces created special pavilions for European visitors, which were none other than pleasure pavilions, designed purposely for recreation and pleasure, with facilities for sports and games, including Hunting Bars.
Shikarbadi as this pavilion was popularly known, is adorned with rare artifacts, Trophies, Memorabilia's and leather upholstered furniture from the west. It creates a dramatic old world charm to demonstrate regal command over the elements of water and earth. The Royals were fond of Hunting tigers and wild animals as a symbol of being most powerful.
This bar has a relaxed charm and was used by Thakur sahib with his close friends to get together. The great hunting plans and experiences were discussed here along with the finest Wines made in the Palace own distillery and was served along with Bar be que preparations of the game meats during these Durbars .Today in the finest tradition of Rajput hospitality, the Shikarbadi offers its guests a taste of royal living - a luxury and extravagance that was once the sole preserve of the kings.The magic spun by such an ambience blended with the choicest wines, spirits and liquors which can only be experienced, not explained, as the best of Royalty and dignitaries over the centuries have been served here.