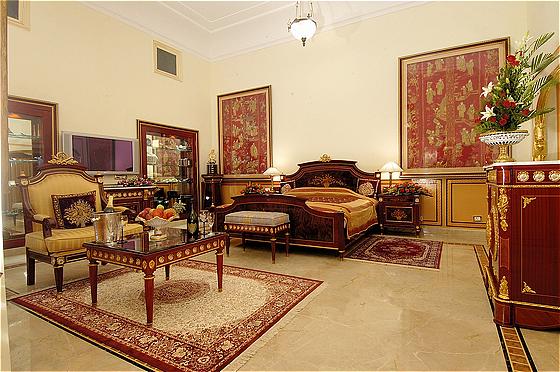 The Raj Palace hotels in Jaipur provide a wide range of facilities and services to its guests.
This hotel in Jaipur has a unique way to experience Jaipur, one of India's most vibrant and exotic destinations. A luxury boutique hotel with its own distinctive character, it revives the gracious lifestyles of India's legendary Rajput prince and Princesses
Recreating the magnificence of princely Rajasthan, in a beautiful Palace setting, with Jaipur Aravali hill ranges as its backdrop; The Raj Palace is set in 6 acres, with lush green landscaped gardens with pavilions that create the romance and grandeur of Rajasthan. Rooms, luxury suites and Pavilions with private pools are clustered around private courtyards in a richly embellished palace setting. At The Raj Palace superb attention to detail creates a soothing blend of warm, effortless service and harmonious spaces. All rooms have large and twin beds and modern baths overlooking courtyards or gardens.
The "The open Jewellery box of Jaipur" as it is fondly called, remained the home of the Chaumoo royal family until 1980's, when it was first converted into a luxury hotel by Princess Jayendra Kumari and her husband Mr Arun Puri in 1997.
This Jaipur hotel has so many things to offer to any luxury travelers including butler services, private concierge, Secretarial staff, baby sitting, private charter services, limousines and many more.
This hotels in Jaipur offer variety of comforts including a plunge swimming pool and a pool side bar. We also offer pick and drop facility to the airport of Jaipur. It is considered as one of the most luxurious hotels in Jaipur by Travel + Leisure, Condenaste travelers, The leading hotels of the world by World travel Awards and many more
Your private home and palace in Jaipur. Come and experience the luxury.